Whole-Cooked Crawfish:
The Perfect Off-Season Supplement to Live Crawfish
Let's face it, when it comes to live crawfish, there is nothing like the fresh, live variety you get at a mid-season crawfish boil. Unfortunately, the crawfish season is relatively short, leaving many people feeling sad, and even unfulfilled, until the next year's bounty.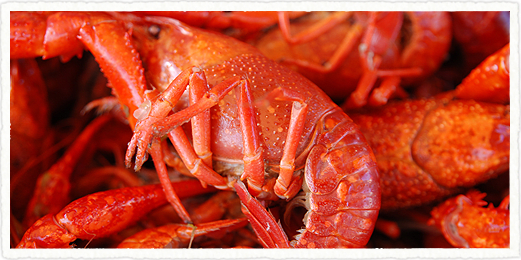 If you've got a sweet tooth for delicious live crawfish that cannot be contented, whole cooked frozen crawfish may be the solution for you.
Now, we know what you're thinking. There is NO substitute for live crawfish. This may be true, but our pre-cooked frozen crawfish are second-to-none when it comes to quality and flavor. We take live crawfish, partially cook them with our special seasoning, and then flash-freeze them in water to keep the great taste you get at a live crawfish boil. We take our frozen whole crawfish seriously, which means it gives people out there an opportunity to buy crawfish online even whenever they're not in season. This is something that we've perfected over the years, because we've had many customers asking about this. Usually it's someone who might not know whenever the season ended asking, "can I buy some frozen crayfish?" The answer used to be no, but we want to provide a different option. A frozen crawfish boil is happening, so order today.
How to Heat Whole-Cooked Crawfish
When heating our whole cooked crawfish, you need to be careful not to overcook them or they will become rubbery. We have only partially cooked them (enough to be able to freeze them) and they are NOT pre-seasoned so the product will not deteriorate. We supply seasoning and you put in the boiling water (just as you would the live crawfish). Really everything about cooking them is exactly the same as the live crawfish except a little less time boiling since they have had a head start. If you look behind the label on your ice chest you will find a card with exact instructions and times, or just print out this page.
Cooking Instructions
Take crawfish out of Styrofoam box.
Defrost the entire bag of crawfish in a sink of water for 3-4 hours.
Do not open bag the crawfish are contained in.
Puncture the bag of crawfish and drain all water out of the package.
Bring a pot of water to a boil.
Add seasoning to pot. Recommded serving - 1lb of seasoning for every 8lbs of crawfish.
Remove crawfish from bag and place in pot.
When water comes to a simmer turn fire off.
Let sit in pot for 5-8 min.
Now they are ready to eat. If you like them really hot, just add more seasoning.
Our whole cooked crawfish come in 4# frozen blocks. If your pot is large enough, you can put the frozen block directly into the boiling water. If pot is not large enough, then thaw out frozen crawfish and cook in increments. First bring pot of water to a boil. Add seasoning. Put crawfish in. When water comes to a simmer, turn off fire. Let sit in pot for 5-8 minutes. Now they are ready to eat. Add more seasoning to taste.
Check out this Easy Crawfish Recipe using tail meat!
What to Make with Whole-Cooked Crawfish
Like traditional live crawfish, the types of meals you can make are almost limitless. Here are a few of our favorites:
If you are having crawfish withdrawal during the off-season, there is no reason to fret. Let Cajun Crawfish help curb those cravings with our whole-cooked crawfish, available year-round!
Did you enjoy this content?
Use the embed code below to share it with your followers! Just copy and paste the code below on your social media page or website:
<a class="embedly-card" href="https://www.cajuncrawfish.com/whole-cooked-crawfish.htm">Whole Cooked Crawfish | Pre-Cooked Crawfish Information & Recipes</a>
<script async src="//cdn.embedly.com/widgets/platform.js" charset="UTF-8"></script>