Crawfish, Corn & Potato Soup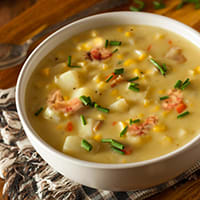 This weekend we had a crawfish boil. To me, one of the best things about a crawfish boil is the left overs. The potatoes are already seasoned, as well as the corn. This makes for a delicious easy recipe with stuff that you already have, and otherwise might throw out!
1. Take the leftover seasoned potatoes and cut them up. I then put them in a big pot on the stovetop. I filled water to the top and turned on high to boil down. You can also add a little milk or cream, but not necessary.
---
2. Continue adding water in pot till the potatoes are to the soup consistency that you like (I probably cooked it down for about 3-4 hours.
---
3. Cut the corn off the cob and throw that in.
---
4. Depending on how seasoned your potatoes were, you may need to add a little seasoning. While boiling down the potatoes, I put on a good movie, and peel the leftover crawfish (I sneak quite a bit since cold crawfish are really good also).
---
5. Once the potatoes are the soup consistency that you like, throw in the crawfish tailmeat and you are ready to eat. It is so good!